Thought your tap water was pure? Think again - deadly toxins lurk unseen every time you turn on the tap.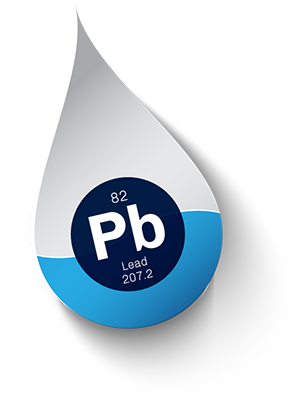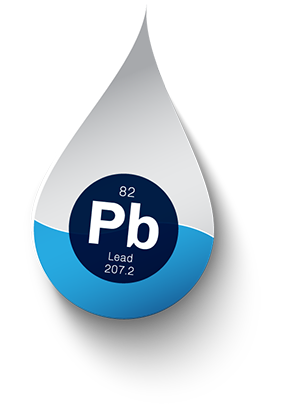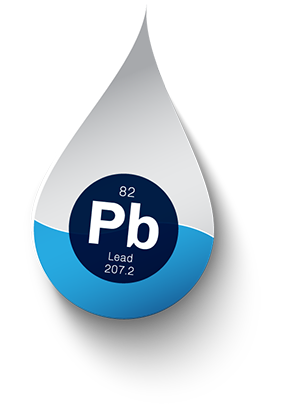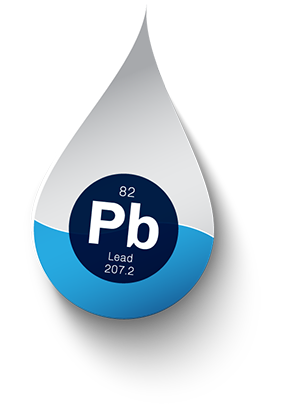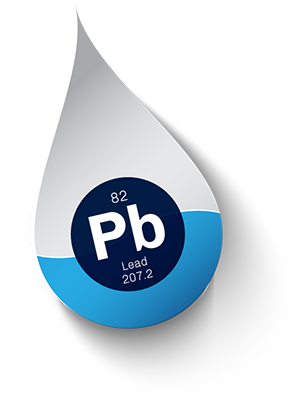 This deadly toxin lurking in many water supplies might be the hidden cause. And the worst part is that, you could be exposed to it on a daily basis, and not even know it.
That's right. Flint, Michigan, isn't the only spot in our country with venomous water...not
even close. A USA Today Investigation has identified almost 2,000 additional water systems spanning all 50 states where...
Testing Has Shown Excessive Levels of Lead Contamination Over the Past Four Years
Yes, lead can do some terrible damage. When introduced into your body in sufficient
quantities, it interferes with zinc absorption in our bodies, which rattles brain cell growth and can even lead to a decreased IQ for your kids.
But, it gets even worse...
The USA TODAY NETWORK investigation also found that over 180 of our nation's water
systems failed to notify consumers about the high lead levels as federal rules require.
But Lead is only the Tip of the Iceberg
Just recently, an attorney representing the Environmental Protection Agency admitted the
EPA "blew it" in botched efforts to regulate perchlorate, also known as rocket fuel, in our drinking water. According to a 2010 report by the Government Accountability Office,
perchlorate contamination of tap water has been found in 45 states and the District of
Columbia.
But Here's the Really Scary Part. Creating Contaminant- Free Tap Water Simply Isn't Feasible.
According to the National Academy of Sciences, there are more than 100,000 potential contaminants in our drinking water, and current analytical methods just don't exist to effectively monitor them.
The U.S. EPA has compiled a list of 100 potentially risky chemicals and 12 microbes that aren't even regulated yet... but are known or expected to be found in our public water systems.
We know this is true, because scientists have identified more than 200 industrial chemicals - from pesticides, flame retardants, and jet fuel - as well as prescription drug residue that's been found in the blood or breast milk of Americans.
Here are just a few of the recent headlines:
EPA's "Safe" Level is Hundreds of Thousands of Times Too Weak Tap Water Causes Cancer, ButMillions of Americans Still Drink It: Why?
California Town's Water Tainted with Arsenic
Fear at the tap: Uranium contaminates water in some California communities Rocket Fuel and the Not So Safe Drinking Water Act
What To Do about the Antidepressants and Antibiotics in our Water?
Teflon Chemical Harmful at Smallest Doses
The problem is not easy to fix - so you need to take matters

into your own hands!
You can no longer rely on the government to deliver you clean, safe, tap water. That's why I
was thirilled to initially discover and promote the AquaTru™ Water System (the new counter
top reverse osmosis system created after five years and 2,647 hours of painstaking research)
before it was even commercially available. The response was fantastic and the reviews from
the people who pre-ordered the product have been amazing to say the least.
I'm now happy to annouce that I've secured a special discount for the first 500 readers of this
message who order before AquaTru™ is launched at the full retail price through a national
television advertising campaign. Instead of paying the everyday retail price of $350, you can
now pick one up for just $249, saving you $100.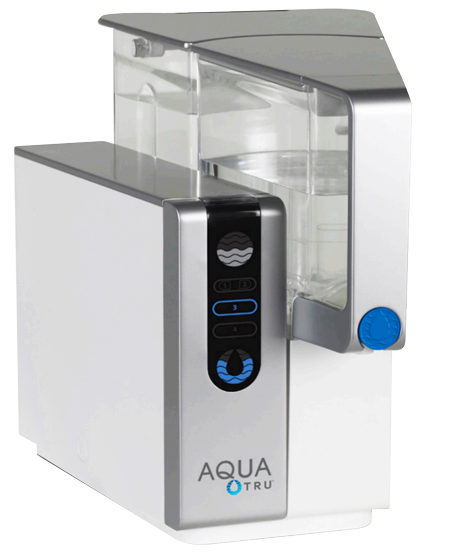 Get Your AquaTru™ Water Purifier Now, and Start Drinking Bottled Water Quality Water at a Fraction of the Price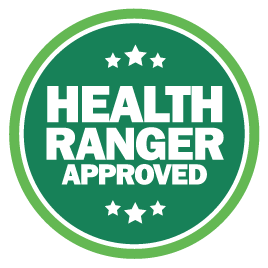 I've been looking for something like this for years and have never been entirely satisfied with anything I've discovered, which is why AquaTru™ is such a monumental breakthrough. Think about it...
Bottled water is expensive and an environmental disaster.
Pitcher and fridge filters are only designed to make your water taste better, not make it
safer. They remove simple chemicals like chlorine, but leave behind a toxic chemical
concoction for you and your family to drink.
Under the sink reverse osmosis systems do produce extremely pure water and can be an excellent solution, but they require professional installation and maintenance, and are too pricey for most folks to afford. And that's not all. The dirty little secret of most reverse osmosis systems is that they are extremely inefficient. About 90% of the water that enters the system can't be handled by the RO filter and goes right down your drain.
I've personally tested the AquaTru™ unit and I'm very impressed.
As you may recall, I personally validated the effectiveness of AquaTru in my own laboratory (see WaterFilterLabs.com for full lab test results). Here are some of the removal percentages I found for several toxic chemicals, as documented via ICP-MS instrumentation:*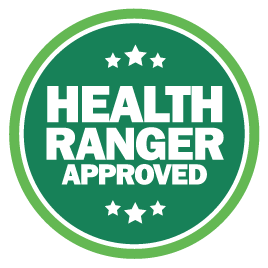 Aluminum reduction — 92.99%
Copper reduction— 99.79%
Arsenic reduction— 99.90%
Strontium reduction— 98.80%
Cadmium reduction— 100.00%
Cesium reduction— 100.00%
Mercury reduction— 100.00%
Lead reduction— 99.90%
Uranium reduction— 100.00%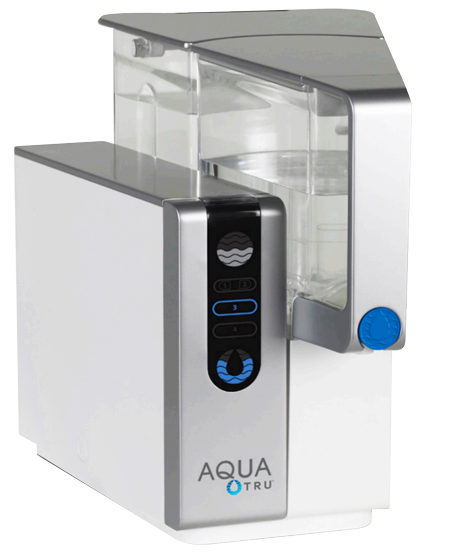 I've scoured the test results. I've asked probing questions. And, I can assure you, this is the real deal.
Get Your AquaTru™ Water Purifier Now, and Start Drinking Bottled Water Quality Water at a Fraction of the Price
Here's the bottom line...
AquaTru™ will save you money:
According to the American Water Works Association®, almost 2/3 of all bottled water sales are single 16.9 oz (500 ml) bottles, which means that consumers are paying about $7.50 per gallon for bottled water, about twice the cost of a single gallon of gasoline.
In fact, if you are buying and drinking the recommended eight glasses of water a day, you could be spending up to $5840 each year for a family of four.
Did you realize Coca-Cola®, PepsiCo® and Nestle® water bottling operations all run on
TAP WATER that's purified using the same reverse osmosis technology as AquaTru™? Now you can make your own bottled quality water for just pennies a gallon.
AquaTru™ requires no plumbing:
It's the first and only countertop reverse osmosis water purifier that creates bottled quality water from your tap... no plumbing or installation
required.
AquaTru™ is compact and portable:
AquaTru™ is a miniaturized version of a built-in RO system. It sits easily on your counter or under any standard kitchen cabinet. What's more, you can take it with you if you move, and even when you travel – it's perfect for RV's, boats and extended stay vacation spots.
AquaTru™ is easy to use and virtually silent:
It includes with a dispensing button that
makes filling up your glass or water bottle fast and convenient. AquaTru™ even tells you when it's time to change the filters.
Get Your AquaTru™ Water Purifier Now, and Start Drinking Bottled Water Quality Water at a Fraction of the Price
P.S. Still not convinced AquaTru™ is as good as I say? Then take a look at this dramatic 'Diet Coke ®' demonstration where AquaTru™ turns a case of Diet Coke ® into pure, clean drinking water. All I can say is...be prepared to feel your jaw drop!
So, if you're serious about your health, want to save money with an easy to use system, and do your part for the environment…
If you're concerned about protecting your family from a range of nasty symptoms including fatigue, headaches, insomnia, constipation, irritability, abdominal pain, reproductive problems, poor appetite, reduced IQ and even an increased risk of cancer...
If you'd like to remove the dangerous toxins from the hundreds of gallons of water you drink each year...
Then jump along to...
And start using AquaTru™ to purify your everyday drinking water, cooking water and water for your pets (your dogs and cats deserve clean water, too).
And remember, order right away if you want to get your hands on one of the 500 units that I've secured at the deeply discounted price of $249 ($100 of the normal $349 retail price). Once they're sold out, you'll need to buy it at the full retail price.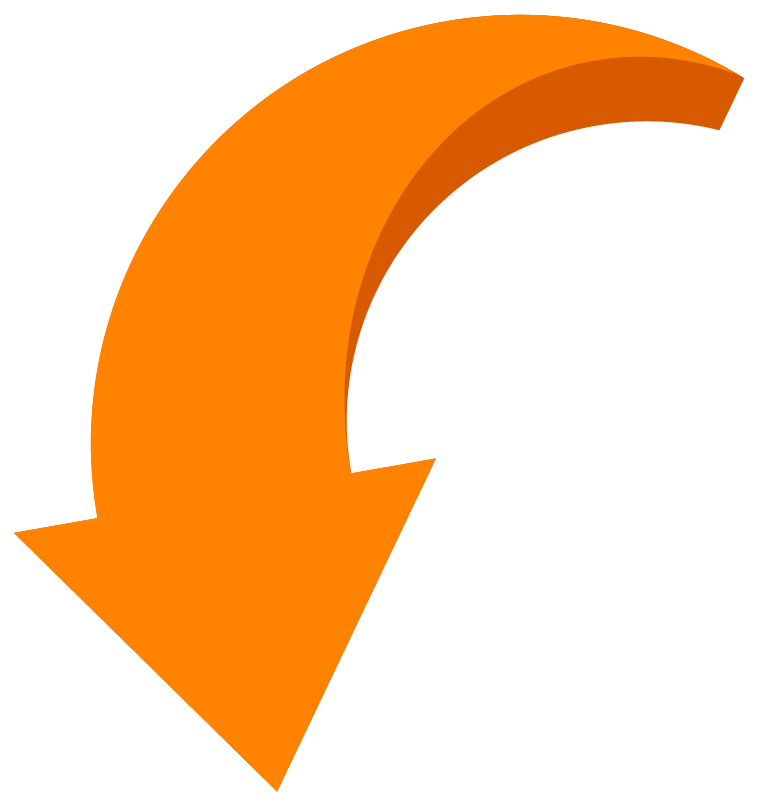 Click the play button to watch. Then, once you're convinced, click here to go to the order page and pick one up for yourself at a remarkable $100 discount -
but only while supplies last.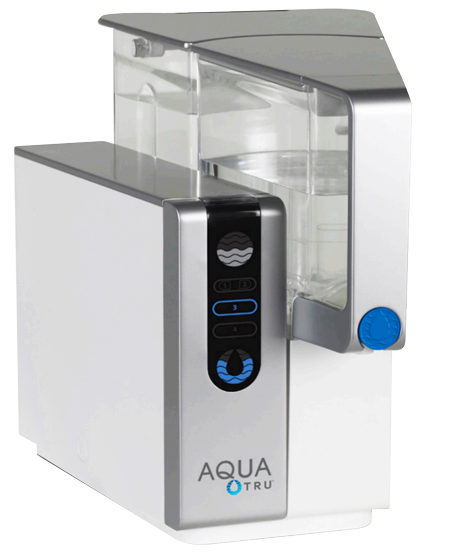 Retail Price: $349
$100 DISCOUNT
NOW: $249 (Save 29%)